Why you shouldn't take the FCE or CAE exams! (because the Business exams are better for your CV, your career prospects and your future salary).
A number of people have been asking me recently which Cambridge English exam they should take.
They all seem to know a little more about the "First" and the "Advanced" more than the Business exams and often feel, or in fact, are completely convinced, that the General English exams are easier. I have advised all of them to take the Business exams because most of the people who have been asking me have been a) aged between 24 and 45) and b) Professionals.
This article will look at common questions, explain the differences between the exams and show thatm for the majority of people, the Business Exams are much more appropriate. A quick note on the exam names before we start. The main two General English exams are now called B2 First and C1 Advanced and used to be known as FCE and CAE. The main two Business Exams discussed in the article are B2 Business Vantage and C1 Business Higher, which used to be known as BEC Vantage and BEC Higher.
Why do you want to take a Cambridge English Exam?
For the majority of people, studying English and planning to prepare for and take a Cambridge English exam is NOT for fun or for pleasure. The main reason is to add the qualification to your CV, to prove your English level in order to help you find your first job, to help you change your job, or to improve your position within your company or even because the Human Resources department tells you that you have to improve your English skills. In short, it is almost always connected to a job and therefore it makes sense to choose a Business Exam, passing the exam will give you a Business qualification in a foreign language, not just a qualification.
But I don't know a lot about the Business exams, and everyone knows about the First and the Advanced?
It is true that the Cambridge Business exams are less well known than the General Exams, but think about why. I often ask people this question and the majority say that their school teachers talked about the exams, and I reply exactly.
The General English exams are perfect for young people aged between 16-22/23 who are in school, finishing school or at University, (Cambridge English acknowledge this on their website and use this photo).
So it is natural for you to have heard of them when you were younger and of course, still natural for you to think of them when you are older and realise through experience how important and beneficial an English Language qualification is.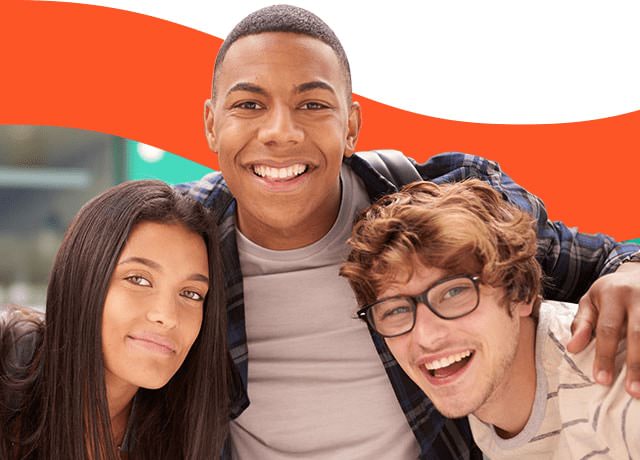 Let's think for a moment about a typical history of someone learning English – hopefully, some of the learning history will sound familiar to you.
They do it at secondary school for two or three hours a week, with lots of other subjects at the same time. They know it is important but so are the other subjects. When they leave school, they either start working or continue their education. English might be part of both but there are lots of other things to learn or do. At some point during or after this period having a good English level and showing it, proving it becomes important to their professional life which is when they start thinking about taking an exam. Naturally, the General English Exams are the first exams that they think about. However, they are almost definitely not 16-23 any more and therefore the General English Exams they remember from school are not what they need any more either. Cambridge English again confirm this on their website, not only with the description but with this photo.
But aren't the General English Exams easier?
No, in a word. The B2 First and the B2 Business Vantage, are the same level and the C1 Advanced and the C1 Business Higher at the same level. They are all difficult but in different ways. The most obvious difference is that the Business exams do not have any explicit grammar questions. The General English exams, have one section worth 12 points which is more or less grammar only.
What usually scares people about the Business exams is the vocabulary. They worry that the texts or the listening will contain lots of vocabulary which they do not understand. Well, I have two things to say about that.
1) If you already use English at work or use English more for professional reasons than social reasons, then it is likely that your Business English vocabulary is much better than your General English vocabulary.
2) The other is that any vocabulary that you learn for the Business English exams will be a lot more useful for you in the future, than for the General English exams. Also, you can expand and practice your Business English vocabulary in a focused way using the BEC Exam Guide resources pages for B2 Vantage and C1 Higher which recommend two books (for each exam) which can help you with your vocabulary.
To support my two points above, let's have a quick look at two example questions. They are exactly the same type of question where you have a text full of gaps and you have to choose the correct word from a choice of four. The first example is from a B2 First exam paper, the second is from a B2 Business Vantage exam paper.

Ask yourself which topic do you already know more about and could you prepare better for? Presentations or Archaeology and old shoes? It might seem like an extreme example but the two images come from Sample Exam papers, and should certainly help with any concerns about vocabulary.
I think that employers only know or ask for General English.
In the majority of job adverts that I have seen, employers refer to an English level they require much more often than a specific exam. While it is true that as individuals, employers or Human Resources recruiters might be more familiar with the General Exam, having a Business English qualification is actually an advantage. It is a great opportunity for you to show that you have some "added value" not just with your English level, but with the specific exam which you choose. If two candidates for a professional position were equally strong in all points but one had a C1 Advanced General English exam and the other had a C1 Business Higher, then it would be logical to choose the candidate who has a Business English certificate.
But I have already done the FCE (B2 First) shouldn't I do the CAE (C1 Advanced) next?
There is no need to continue with the same time of exam because the levels are the same, between the General and the Business exams. If you did the FCE exam when you were "young" and are now over 24/25 and would like a higher level English qualification then the C1 Business Higher is certainly the best exam for you now. Even if you are still "young", you should consider what you want to use the exam qualification for, if the answer is a future job, then the C1 Business Higher is also the best choice.
What do Cambridge English say?
You have already seen the photos demonstrating the age range of the students each exam is aimed at, but let's go further to see how Cambridge English market their exams on their website, the different target markets are very clear indeed. I've included the B1 Preliminary exam for both General and Business.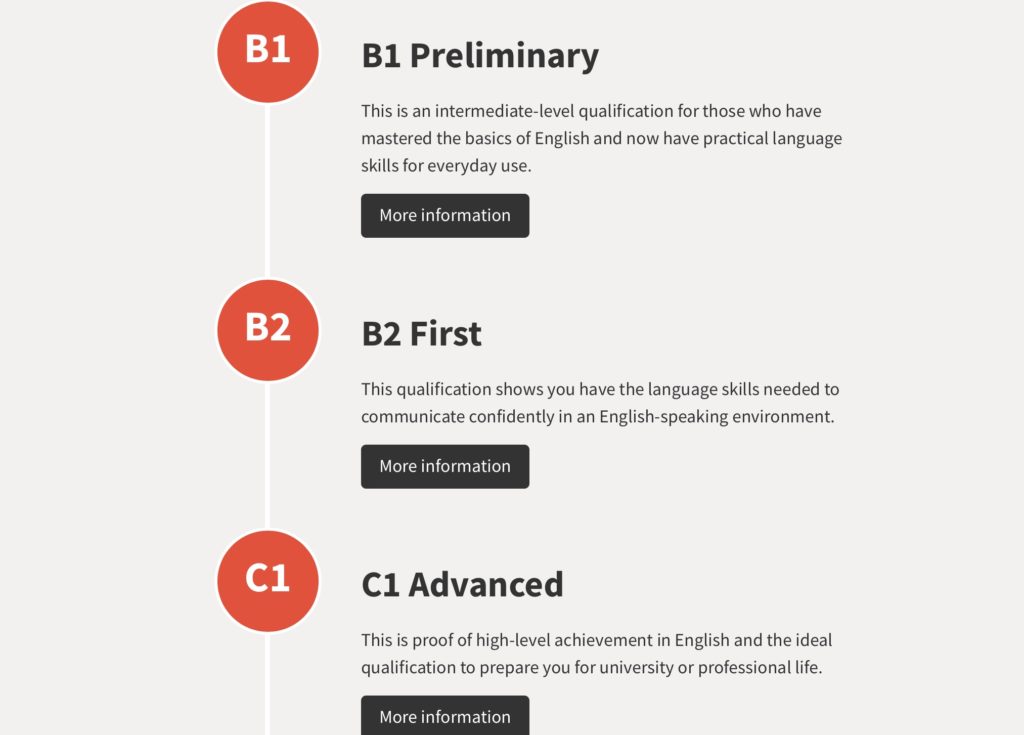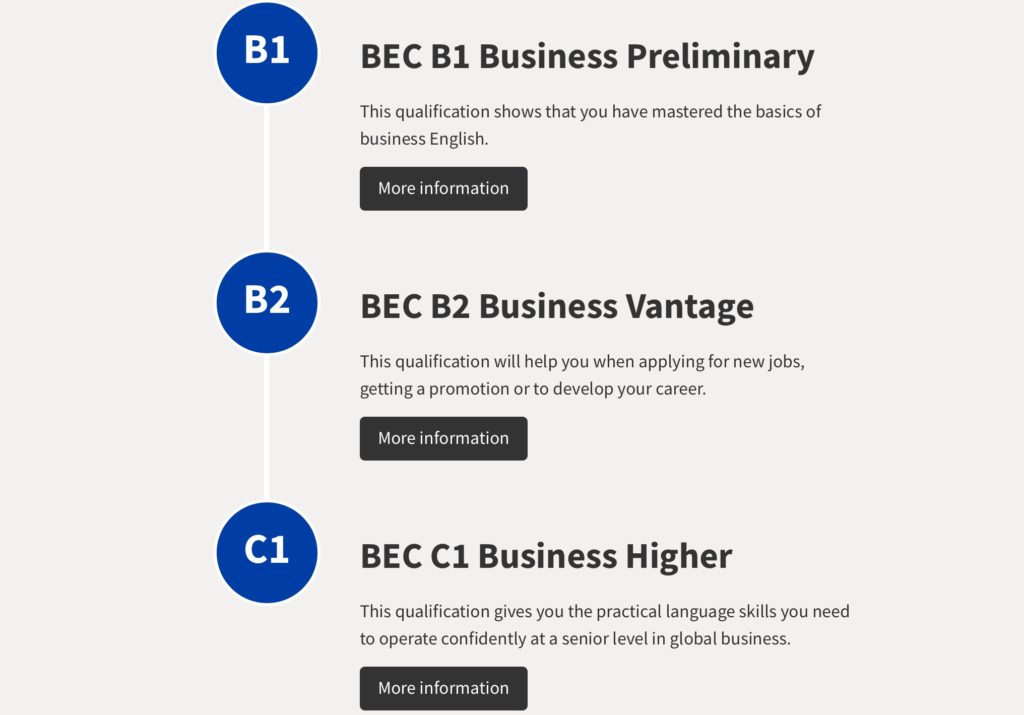 At B1 level, the General exam is for people who can use English at a B1 level for "everyday use". The Business Exam is for people who can use basic Business English.
At B2 level, the General exam is for people who want to show you can "communicate confidently" in English whereas the Business exam, is for people who want a new job, or a promotion or to develop their career.
At C1 level the General exam gives you a qualification to prepare you for higher education studies or a career in English but the Business exam I am going to quote exactly here to emphasis the difference "gives you the practical language skills you need to operate confidently at a senior level in global business" in English. Wow, that sounds impressive. It also suggests that it is the exam itself that helps you achieve the language skills.
So Cambridge English themselves have made a clear distinction in WHO they think should be taking the exams and are definitely targeting people with professional ambitions or experience for the B2 Business Vantage and the C1 Business Higher exams.
So what are the main differences between the General and Business English exams?
In many ways, the exams are very similar/ They both have four parts all of which count for 25% of the exam and test the four skills, Reading, Writing, Listening, and Speaking.
The context for the questions though, is completely different. I have put together tables for you showing the topics for each question for each of the exams, which illustrate the almost entirely different contexts. Again you have to ask yourself, which do you want to prove you know about and can do?
The tables demonstrate clearly, especially when combined with the analysis of the Cambridge website, that the General English exam qualifications show that you can live in an English speaking environment or country but the Business English exams prove that you can work in an English speaking environment – the final question you need to ask yourself is which one suits you and your circumstances.
The BEC Exam guide hopes that you find this article useful and informative,